Master of Science (MSc) in
Real Estate
Your path to shape the skyline
The Real Estate industry plays an integral role in the worldwide economy and has become a very competitive and technically sophisticated sector. Did you know that new development of commercial real estate and of the ongoing operations of existing commercial real estate buildings in the United States - office, industrial, warehouse and retail - supported 8 million American jobs and contributed $1.01 trillion to the U.S. GDP in 2020? And that the US, the UK, Germany and Spain ranked at the top of investment destinations worldwide?
The MSc in Real Estate will provide you with the necessary skills and networking to succeed in this fascinating and competitive sector, in an international business context.
Taught by world-renowned faculty and guest expert practitioners, participants will receive a cutting-edge education combining theory with real-world applicability to become leaders in the industry.
This international programme includes two terms of intensive courses in Madrid and one term in London with additional specialization courses. Field trips to major European capitals are part of the programme. The master thesis and a company internship are the final steps to complete this Master.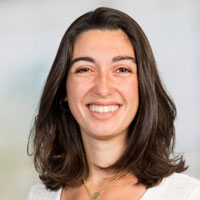 "ESCP has a worldwide reach in the real estate sector. From networking events to accredited courses and partnered internships, the School provides us with the tools to become successful real estate professionals. We have hosted reputable speakers on subjects ranging from distressed mortgage debt to urban design. Such events have allowed us to discuss with industry professionals whose insider quality gave us a true understanding of the market, in addition to the theoretical classes we attended. We have now entered the real estate labour market with a rich network and confidence in our capabilities."
Claudia RUSSO SANJUANBENITO
President of ESCP Real Estate Association
Master in Management class 2019
Careers
Common job titles are:
Real Estate Analyst
Real Estate Asset Manager
Real Estate Investment Manager
Valuation Analyst
Development Analyst
Investment Analyst
Financial Analyst
Acquisitions Associate
PropTech entrepreneur
Real Estate Big Data Analyst
Mortgage Broker and Analyst
Industries hiring:
Institutional Investors and Investment Funds
Consultancy Firms
Real Estate Service Firms
Investment Banks
Investment and Development Companies
Key aspects of the programme*
---
Postgraduate programme accredited by the French Conférence des Grandes Écoles.
Learning by doing: Our teaching principles combine a real estate curriculum with real business cases, live case studies, seminar presentations by renowned guest speakers, networking events, and an International Consulting Project (ICP)
Technology driven approach to understand and work with the most advanced technologies in the Real Estate world
World-renowned faculty and guest expert practitioners will provide the best professional practices in an international context.
PropTech entrepreneurs will analyse their successes, struggles and business models
"Full-Time Intensive" format will allow you at the end of a short and dense tuition, to have an immediate access to decision-making leadership positions
Field trips and other learning experiences outside the classroom to complement the programme.
Internships all over the world for a minimun of 4 months.
Multicampus structure will allow participants to study in two of the most dynamic, beautiful and important capitals in Europe
Multicultural diversity thanks to ESCP's global faculty and international class mix.
Career possibilities around the globe through our large alumni network and ESCP's strong connections with the corporate world.
*ESCP declares that the MSc in Real Estate is a private ESCP diploma. This Master does not lead to an official diploma in Spain (law 84/2004 BOCM)
Scientific Director
---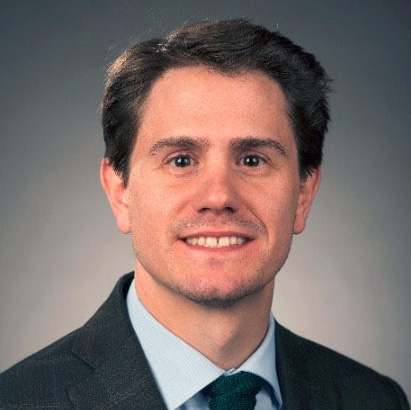 Jaime Pérez Luque
PhD in Economics, Nova School of Business and Economics
Research areas: residential development and mortgage lending
About the ESCP MSc
The choice of a Full-Time MSc corresponds to a professional project and gives young graduates and young managers a combination of high-value skills sought by recruiters.
This programme provides academic expertise and presentation of the best professional practices. Our goal is to train experts who will be rapidly able to progress in a globalized world. Choosing a "Full-Time Intensive" format allows, at the end of a short and dense tuition, to have an immediate access to decision-making leadership positions.
Master of Science (MSc) in
Real Estate
Curriculum
Our programme targets your expertise
The MSc in Real Estate (90 ECTS) will train you to manage projects in an international business context
The programme makes significant use of inductive teaching methods and interactive activities (project simulations, case studies, business plan development, etc.). This guarantees the skills acquisition needed to work in multidisciplinary, international and multicultural teams.
This full-time programme takes place over 9 months (15 months including internship and thesis) and is divided into three terms (2 terms in Madrid and 1 term in London). You have to be proficient in English to follow these courses.
NOTE: ESCP is committed to delivering the curriculum as is, unless external circumstances (such as the COVID-19 pandemic) are in the way, in which case(s) we will develop alternatives to deliver the programmes's learning objectives.

A one-year full-time programme
The programme begins in September and is organised as follow:
Course Modules
9 months of theory classes, study of expertise, and practical cases
The courses address both theory and real-life applications with a practical approach to real estate. They are taught from September to June by world renowned faculty and guest expert practitioners.
Term 1
Sep-Dec – Madrid
Real Estate Finance and Management
Real Estate Finance and Investments
Real Estate Consulting
Project Management in Practice for International Consultancy Projects
Real Estate Technology and Innovation
PropTech and Real Estate Innovation (I)
Smart Cities and Urban Design
Software Technologies in Real Estate (Illustrator, Photoshop, InDesign, BIM, …)
Startups and Venture Capital
Field Trips & Skills to Succeed in Real Estate
1-week field trip on "Hotel Operational Management" in a Spanish coastal city
Effective Communication & Pitch
Career Development
Term 2
Jan-Mar – Madrid
Live Case Studies
Live Case Study Hospitality
Live Case Study Retail
Live Case Study Logistics
Real Estate Technology and Innovation
Sustainability and CSR in Real Estate
PropTech and Real Estate Innovation (II)
Real Estate Development and Investments
Hotels Mergers and Acquisitions
Introduction to Real Estate Development
RE Investment Funds
Real Estate Law, Economics and Meeting the Experts
Real Estate Law
Culture, Heritage and Real Estate
Real Estate Economics
Negotiation and Problem Solving
BNP Paribas Real Estate Roundtables

Term 3
May – London
Advance Real Estate Development
Real Estate Data Analytics
Equity Capital Markets
Field trip and site visits in London, UK
Professional mission
A professional mission in the form of an in-company internship of at least 4 months.
From mid-April to end December, you must complete an in-company internship of at least 4 months (though often lasting for 7-8 months). ESCP assists you in locating internship opportunities and networking with companies.
The internship is an opportunity for practical application of the theoretical concepts learned from courses, with an eye to establishing a career. In many cases, corporate employers consider the internship as a trial period for a permanent position.
The Corporate Relations Department
The Company Relations Department is dedicated to gather placement offers from many companies. The department also organises a series of fairs involving firms, giving you many opportunities to make contact.
The thesis is an applied research project in consultation with an academic advisor based on a professionally-oriented topic.
It is a chance for you to synthesise learned material through analysis of a particular corporate issue by using clear, detailed argumentation. The thesis marks the culmination of the degree and is orally presented to a committee at the end of the programme. It represents 30 of the total of 90 ECTS credits earned over the year.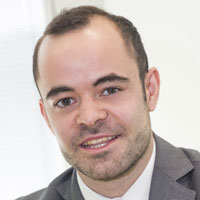 "Real estate education at ESCP could not be any better. It provided me with the key quantitative and conceptual skills needed to make complex decisions required in the real estate finance sector. The program has a very practical approach. From the beginning you learn how to create financial models with Excel. There is also extensive use of real business cases and the opportunity to attend conferences of experts in the field. In addition, thanks to ESCP's strong connection with the corporate world, I had the opportunity to do an internship at BNP Paribas Real Estate with subsequent career opportunities at the company."
Diego MACARELLI
Master in Management Class 2019
Intern at BNP Paribas Real Estate Spain
Master of Science (MSc) in
Real Estate
Admissions
IMPORTANT
The admission teams are working hard to maintain admission exam schedules as originally planned, in light of the special circumstances created by the COVID-19 pandemic.
For the time-being, candidates are advised to remain focused and proceed as normal. We are doing everything possible to minimise the impact the current circumstances will have, while continuing to maintain the highest health standards.
Our teams will remain available to reply to your questions, and will be in touch as soon as new information becomes available.
Requirements
A Bachelor or Master degree in any discipline, preferably in business, science, architecture or engineering:
- Minimum 240 ECTS previously acquired at a Higher Education Insitution;
or
-Minimum 180 ECTS for some candidates who add value to the group. We will only consider under this derogation students from pretigious institutions and/or excellent academic preformance and/or first professional experience.
Advanced English level: C1

TOEFL IBT: 100
TOEFL written: 600
TOEFL computer based: 250
IELTS: 7
Note: Due to accreditation regulations, students starting with 180 ECTS will need to obtain an additional 30 ECTS at ESCP Business School. The school will offer additional course options for those students. The corresponding fee for these ECTS is 3,000€
Procedure
Applications are examined in the order of their arrival; they must be submitted as early as possible. We have rolling admissions. After the application package has been reviewed by the Admission Committee, the candidate will be notified whether he/she will be invited for the admission exam and individual interview.
Step 1: Application form
Applications are made online. Please ensure that you take plenty of time with this form and answer all the questions therein as fully and thoughtfully as possible.
The main elements of the application include:
Detailed professional experience
Personal statements (cover letter)- in English
2 letters of reference (online form available in the application) - at least one has to be from a professional experience - in Spanish or English
An updated CV
English language test result (if applicable)
Copies of passport and university transcripts and degrees.
Optional:
If you do not have an official English certificate (IELTS, TOEFL, TOEIC), obtained within the last 2 years, you will be invited to take the ESCP English Proficiency Test, which is completely online.

GMAT, GRE or TAGE MAGE score. In case you have not taken any of these exams before, you will be invited to complete the ESCP Numerical and Verbal test (SHL) during the admission process (Online)
Please ensure that all required supporting documents are scanned and uploaded during the online application process.
Please note: you will still need to bring the originals to your admission interview. For full details of the application requirements, please see the online application. An application fee of €130 is required to cover processing of the application.
Step 2: Personal Interview & Exams
Students holding a TAGE-MAGE or a GMAT score and a TOEFL or a TOEIC listening and reading score or IELTS score (taken within the last two years) do not take the ESCP Europe written tests and must submit a copy of the results of these tests in their application file.
Candidates living outside of France and wishing to take the TAGE MAGE must apply through the FNEGE - Fondation nationale pour l'enseignement de la gestion des entreprises - to take this test.
Students not holding the standardized tests have to take the ESCP Europe entrance tests (SHL Test).
Candidates whose written application and admission exam are accepted will be invited for an individual interview, which plays an essential role in assessing the abilities and motivation for joining the program. Interviews take place from November to September each year.
Step 3: Confirmation
Admission decisions are sent out by email and post within two weeks of the Admissions interview.
From the moment of the notification, students have a maximum of 10 days to pay the registration fees and thus, confirm their place.
Application
Sessions
Application
Deadline
Admission
Session
January
10 Jan 2021
27 Jan 2021
February
7 Feb 2021
24 Feb 2021
March
7 Mar 2021
17 Mar 2021
April
4 Apr 2021
14 Apr 2021
May
9 May 2021
19 May 2021
June
13 Jun 2021
23 Jun 2021
July
4 Jul 2021
8 Jul 2021
September
29 Aug 2021
8 Sep2021
(*)We'll have admissions per month only if we have slots available.
Curriculum
Fees & Financials
Specialised Master® in
Real Estate
Fees & Financial
Application Fees
A payment of €130 for application fees payable to ESCP Europe.
Please note that this is non-refundable.
Fees
The fees for the academic year 2021/2022 are set at €19,350 (for all students, both EU and non-EU).

Students with 180 ECTS must take additional 30 ECTS, due to our external accreditations. The corresponding fee for these ECTS is 3,000€.
Early bird Scholarship: €1,000 discount for all admitted and confirmed candidates before June 30th ,2021
Information on the payment methods for both the programme fees and application fee can be found in our online application form.
The programme tuition fees include:
In-class modules at ESCP Europe Madrid and London campus
A tutor guided International Consultancy Project
Learning materials
Career orientation & workshops
Fees do not include:
Travel, accommodation and living costs for sessions in Madrid and London are not included, nor accommodation, meals or extra expenses during field trip.
SCHOLARSHIPS
ESCP has been committed to recognizing and enabling the most talented international students to pursue their studies and invest in their future career.
The MSc programmes offer 20 partial scholarships of 3000€ over the tuition fees based on financial needs and academic merits. Every student, who has been admitted and enrolled in the programme, will be able to apply for only one partial scholarship.
Scholarship of 3000€ will be deducted from tuition fees.
Eligibility: Scholarships are open to all candidates, irrespective of gender, nationality or background, who have been admitted and enrolled to one of our MSc programmes and are able to demonstrate academic merits or financial needs.
Process: The candidates who have been admitted and enrolled to one of our MSc programmes and are interested in a partial scholarship should complete a scholarship form (that will be sent by the Student Service department when you have confirmed your enrolment in the programme), send a personal statement outlining why you should be awarded our scholarship and include evidence that can support it. The scholarship's request or personal statement can be in any format (video, essay, art, etc.), but it clearly needs to outline your academic achievements or your current financial situation.
Deadline: Results from this scholarship are announced at the beginning of July by email from the Student Service Department and the deadline to apply is on June 30th, 2021.
Loans & Bursaries
A programme such as the MSc in Real Estate is perhaps the most significant investment that you will make in your professional life and your future. Below are some options to help fund your time at ESCP Europe.
BBVA
Offers two loan options for ESCP Europe students
Option 1: Master and Courses Loan
Loan holder: student or parent
Maximum amount: up to € 75,000
Interest rate: Euribor + 4%
Repayment period: up to 8 years
Fixed Opening Commission: 1,50%
Option 2: Master Blue Loan
Loan holder: student or parent
Maximum amount: up to € 50,000
Interest rate: First 6 months (Euribor + 0%), rest period (Euribor + 6%)
Repayment period: up to 10 years
Total lack of capital and interests: up to 24 months
Banco Sabadell
Highlights of the ESCP Europe´s agreement with Banco Sabadell offers two ways of financing our degrees:
Tuition loan. Interest-free, short-term loan of up to 18,000€, to be repaid in 12 months
Loan. Long-term loan to be repaid in a maximum of 10 years following the loan applications.
Bank Sabadell reserves the right to refuse the loan if, at the time of submission of the loan application, any circumstances pertaining the person(s) applying for the loan come to light that could alter the decision regarding whether to grant the loan.
Important
Any decisions regarding the loan itself are made by the banks in question and ESCP Europe does not have any say over or responsibility for their final decision.
Conditions and requirements set by each bank and/or institution; students are responsible to go over this directly with them. ESCP Europe does not guarantee that the loans will be granted.
Note: The information contained herein is subject to change.