Skilled, "white-collar" jobs were once thought to be secure, but they are now being outsourced to developing countries as fast as "blue-collar" jobs. Written by a Professor from Cornell University for the Industrial Relations and Firms' Competitiveness Chair, the attached policy paper examines the case of the US law industry, which has seen more and more work being offshored to India. He explains what it means in terms of job prospects in the US and in India.
Low-level software coding, customer support, social media marketing and telemarketing have routinely been moved to developing countries since the 1990s, spawning the so-called Business Process Outsourcing (BPO) industry. India, with its huge English-speaking and increasingly skilled population, is one country that has particularly benefitted from this boom. While offshoring so far only affected clerical back-office jobs, now highly-skilled jobs in accounting and engineering, once thought to be invulnerable, are also migrating. Even such a prestigious field as the legal profession in the US is seeing jobs draining away to India's Legal Process Outsourcing (LPO) industry. In a policy paper written for ESCP's Industrial Relations and Firms' Competitiveness Chair, Sarosh Kuruvilla, Professor of Industrial Relations, Asian Studies and Public Relations at Cornell University and member of the chair's Scientific Committee, examines the scope of the offshoring of legal processes, and its impact on both the US and Indian labour markets.
LPO firms are moving up the value chain
Once the mere back office of the US, India is taking on increasingly skilled work. US law firms and corporate legal departments, which have been using Indian LPO firms for labour-intensive, routine tasks such as transcriptions, document review since the 1990s, now outsource more and more advanced services. Legal tasks once performed by second-year or third-year associates in large law firms including contract drafting and review or due diligence research for merger and acquisition deals, are now done in India – for only $10 per hour (a fraction of the $200 per hour rate billed to clients in the US). Clearly, a global value chain has emerged in the legal industry, and Indian LPO firms are fast moving up the chain. In an ironical twist that could be referred to as "on-shoring", some India-based LPO firms such as SDD Global have even opened offices in the US and hired American lawyers, at lower salaries.
A ballooning industry
Gleaning estimates from different sources, Professor Kuruvilla was able to paint the picture of a rapidly expanding market: LPO revenues in India are reported to have climbed from $640 million in 2010 to $1.12 billion in 2012, which works out to a 30% annual average growth rate. He counted some 171 LPO firms in India in 2014, up from 40 in 2005. They employed 32,000 lawyers in 2012, according to an industry count. Since the US is the main client, accounting for nearly three-quarters of the total revenues of the Indian LPO industry (with the UK a far second), Sarosh Kuruvilla examined the incidence of offshoring on the US and Indian labour markets for lawyers.
A more elastic legal market in the US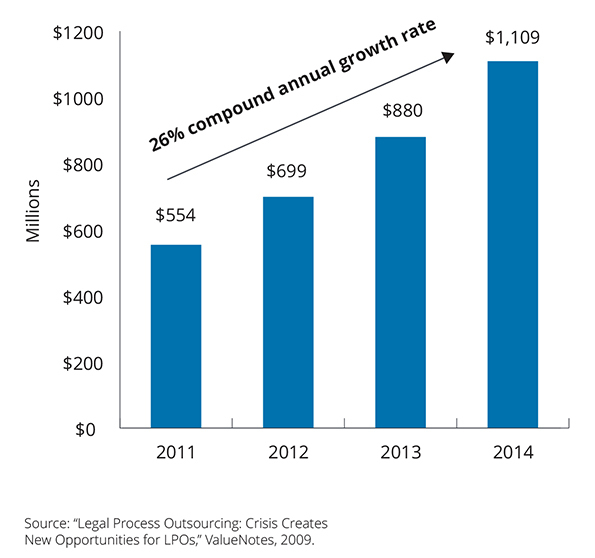 The employment system in large US law firms, which used to form a closed internal labour market, governed by a rigid pecking order, became somewhat more elastic in the 1990s, with the growing use of contract lawyers. The traditional, pyramidal model was further weakened by the financial crisis of 2008, with hiring cutbacks and a shift from hourly billing to flat rates or performance-based fees. By the time the economy had recovered, many jobs had gone to India. Offshoring seems to have caused a decline in entry-level positions in particular, as industry figures showed a 60% drop in the ratio of hours billed by first-year associates in the five years leading to 2014. Why did offshoring increase so rapidly after the 2008 crisis? Lower labour costs seem the obvious culprit, as Indian labour is between 10% and 20% of US labour cost. But Professor Kuruvilla points out that work can be contracted out almost as cheaply in the US. He offers an alternate explanation, writing: "The rapid maturation of the LPO industry in India has increased perceptions of the quality and reliability of offshoring law work." After all, many Indian lawyers are coached by US- and UK-trained lawyers. Finally, he explains, offshoring is perceived as a perfectly "legitimate strategy" among US law firms, one blessed by the American Bar Association itself. And once leading companies had initiated a precedent (for instance, UK legal firm Clifford Chance in 2009, or in-house legal departments of DuPont and Cisco Systems in 2007-2008), others simply followed suit.
A more open Indian legal market
Last but not least, Professor Kuruvilla examines the effect of offshoring on the Indian legal industry. Before the emergence of LPO firms, it was dominated by a few elite, family-controlled companies. A new job market has therefore opened for law graduates lacking the kinship ties to elite firms or not wishing to start their own practices. LPO firms offer career paths not unlike those that traditionally existed in US law firms, with on-the-job training and formalized promotion systems. "The LPO industry can pave new ways for upper-middle-class mobility for many Indian law graduates," writes Sarosh Kuruvilla. However, he notes that this very same social escalator is breaking down in the US, where the legal profession is no longer a sure way of entering the middle classes. He concludes, however, that the most important impact of offshoring is maybe not the employment effect. While the initial impact has been a loss of jobs of junior lawyers, there is potential for longer term job gains in the US, as firms may become free to take up more advanced work that cannot be offshored for legal reasons. Generally speaking, the case of the law industry shows that highly-skilled, high-status occupations are just as susceptible to offshoring as jobs in low-skilled occupations.