Nuit Portes Ouvertes (NPO)
Samedi 1er octobre 2022 - 18h00 - 2h00
Campus Paris République
Shoot for the stars, aim for ESCP
ESCP vous invite à toucher les étoiles !
Découvrez l'école et ses programmes à travers des activités originales et décalées, et partagez un moment convivial avec nos anciens et actuels étudiants lors d'une soirée unique !
Au cours de la soirée, vous pourrez participer à nos activités et tenter de gagner des cadeaux surprises !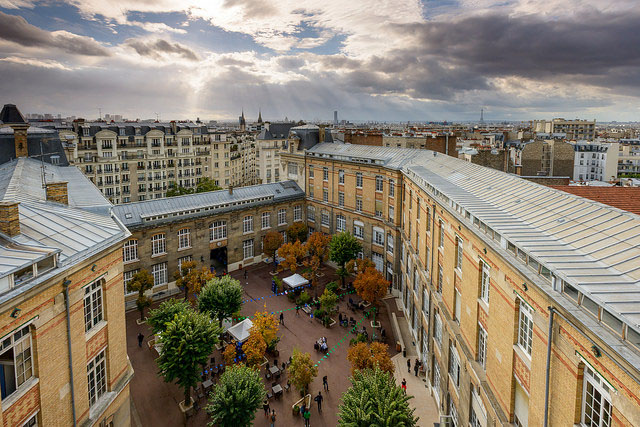 AUTHORISATION TO USE THE IMAGE RIGHTS
Event at ESCP
In the context of the event in which you are participating, ESCP may need to take or have taken photographs or videos of the Participants.
These photographs or videos may be representations of a group of people (speakers, participants, ESCP team,...) or individual representations.
By signing the present document, the Participant authorizes ESCP to capture by any means at its disposal his/her name, first name, image (photograph and video) and voice, to use, reproduce and distribute them in any event, advertising or promotional activity or communication related to this event, and more generally to the School, both internally and externally, without any limitation of territory, and without this conferring on him/her any remuneration, right or advantage whatsoever.
For instance, ESCP may use the name, first names, image and voice of the Participant by broadcasting a video on the School's screens, by a photograph in a brochure or on the School's website, etc.
The Participant also agrees that ESCP may communicate any image, video or sound to any third party of its choice in order to broadcast these elements or to represent ESCP.
This image right will be granted to ESCP for a period of 2 years.
With regard to this image right, the publication or broadcast of the Participant's image, as well as the captions and comments accompanying this publication or broadcast, may in no case infringe upon his or her dignity, private life and reputation.
The Participant may at any time revoke this authorisation. To do so, he/she must inform ESCP by mail at the following address ESCP - Direction Communication - 79 avenue de la République, 75011 Paris.
This request will be taken into consideration 15 days after the receipt of this letter
However, it is expressly stated that if a representation of the Participant's image is found on communication media that are difficult to remove or if such removal causes financial or image prejudice to ESCP, ESCP may use these media until new media are published without the representation of the image whose removal is requested, which the Participant accepts.
ESCP wishes to draw the Participant's attention to the fact that the withdrawal of the authorization to use the image rights or a refusal to authorize the use of the image rights will result in the Participant's exclusion from the photo shoot or in the masking or blurring of his/her face.
The Participant authorizes the use of his/her data, in this case his/her image, by ESCP for :
the promotion of the event and related events (current or future);
In accordance with the amended law of January 6, 1978 on Information Technology, Files and Liberties, the Participant has the right to access, modify, oppose and delete his/her personal data by writing to the following address:
either by post to "SERVICE DATA PROTECTION OFFICER - ESCP Europe", 3 rue Armand Moisant 75015 Paris;
or by e-mail: dataprotection@escp.eu
The request must be signed and accompanied by a photocopy of an identity document bearing the signature of its holder and specify the address to which the reply should be sent. A reply will then be sent to the Participant within 1 month of receipt of the request, failing which the Participant may refer the matter to the CNIL.
Autorisation de droit à l'image
Evènement à ESCP
Dans le cadre de l'évènement auquel vous participez, ESCP peut être amené à réaliser ou faire réaliser des photographies ou des vidéos des Participants.
Ces photographies ou vidéos peuvent être des représentations d'un groupe de personnes (intervenants, participants, équipe ESCP,...) ou des représentations individuelles.
En signant la présente, le Participant autorise ESCP à capter par tout moyen à sa disposition son nom, prénom, image (photographie et vidéo) et son, à les utiliser, reproduire et diffuser dans toute manifestation, démarche publicitaire ou promotionnelle ou de communication relative à cet évènement, d'une activité de valorisation de l'évènement et plus généralement de l'Ecole, tant en interne qu'en externe, sans limitation de territoire, et sans que cela ne lui confère une rémunération, un droit ou un avantage quelconque.
A titre illustratif, ESCP pourra utiliser les noms, prénoms, images et sons du Participant par diffusion d'une vidéo sur les écrans de l'Ecole, par une photographie apposée dans une brochure ou sur le site internet de l'Ecole, etc.
Le Participant donne également son accord pour que ESCP communique toute image, vidéo ou son à tout tiers de son choix pour permettre la diffusion de ces éléments ou pour représenter ESCP.
Ce droit à l'image sera concédé à ESCP pour une durée de 2 ans.
En ce qui concerne ce droit à l'image, la publication ou la diffusion de l'image du Participant, ainsi que les légendes et les commentaires accompagnant cette publication ou cette diffusion, ne pourront en aucun cas porter atteinte à sa dignité, à sa vie privée et à sa réputation.
Le Participant peut à tout moment revenir sur cette autorisation. Pour ce faire, il devra en informer par courrier ESCP à l'adresse suivante : ESCP – Direction Communication – 79 avenue de la République, 75011 Paris.
La prise en considération de cette demande sera effective 15 jours après la réception de ce courrier.
Cependant, il est expressément précisé que si une représentation de l'image du Participant se trouve sur des supports de communication dont le retrait est difficile ou si ce retrait entraîne un préjudice financier ou d'image pour ESCP, celui-ci pourra faire usage de ces supports jusqu'à l'édition de nouveaux supports sans la représentation de l'image dont il est demandé le retrait, ce que le Participant accepte.
ESCP entend attirer l'attention du Participant sur le fait que le retrait de l'autorisation d'utilisation du droit à l'image ou un refus d'autorisation d'utilisation du droit à l'image aura pour conséquence soit d'écarter le Participant lors des prises de vue, soit de masquer ou flouter son visage.
Le Participant autorise l'utilisation de ses données, en l'espèce son image, par ESCP pour :
la promotion de l'évènement et des évènements liés (en cours ou futurs) ;
Conformément à la loi modifiée du 6 janvier 1978 relative à l'Informatique, aux Fichiers et aux Libertés, le Participant dispose d'un droit d'accès, de modification, d'opposition et de suppression des données personnelles le concernant en écrivant à l'adresse suivante :
soit par courrier au « SERVICE DATA PROTECTION OFFICER – ESCP Europe », 3 rue Armand Moisant 75015 Paris ;
soit par courriel : dataprotection@escp.eu
La demande doit être signée et accompagnée de la photocopie d'un titre d'identité portant la signature de son titulaire et préciser l'adresse à laquelle doit être transmise la réponse. Une réponse lui sera alors adressée dans un délai de 1 mois suivant la réception de la demande, à défaut le Participant peut saisir la CNIL.
Location
Organiser: ESCP Business School
Paris - France
Map
Date
Start date: 01/10/2022
Start time: 6:30 PM
End date: 02/11/2022
End time: 2:00 AM